Home

/

PECULIARITIES OF CONSTRUCTION
Technology
PECULIARITIES OF CONSTRUCTION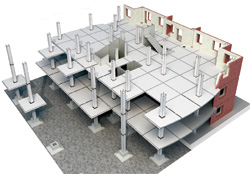 KUB-2.5 structural system is highly industrialized due to high readiness of its prefabricated elements. All elements are manufactured at precast factories. Prefabrication system applied in KUB-2.5 system allows transferring the labour work to the shop conditions thus reducing risks for environment and human factors significantly.
There are only ready elements installed at eth site by means of mechanized equipment (cranes) thus providing high speed of construction.
Besides the frame assembly can be conducted all year round, and small number of workers reduces chances of unqualified labour force involved in the assembly process.